Omura S1 Review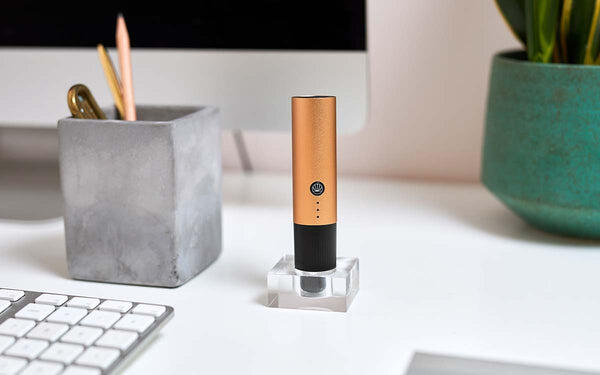 Our First Impression
First and foremost, Omura's packaging game is on point. The box comes in a green sleeve which hides the beautiful wooden box. Brandishing the lovely Omura logo, the lid pops right off with a satisfying wooden clack, and inside you'll find three compartments which contain all the how-to manuals and what the company is about, the included USB-C charging cable, a notepad Omura describes as a "dosing tracker" and the device itself, as well as a box of flower sticks ready to use.
Although initially you might think Omura doesn't include many bells and whistles in the box, such as a grinder or dosing capsules, the design of the device itself needs no extras or accessories due to the incredibly well-thought-out concept of the device.
Features and Specifications
It seems Omura's whole design philosophy is followed here to the tee, as through the features and details put into the Omura S1, there is simply nothing more to be desired out of the vaporizer.

Omura's Flowersticks – These are empty cigarette-like cartridges you fill yourself, containing 1/10th of a gram of dry herb - giving you precise dosing built-in to each session.

These Flowersticks, as well as the product in its entirety, are also 100% biodegradable and compostable - you can put them in your garden or simply dispose of them.

Heat-not-burn – The S1's design doesn't let any herb get overcooked or burnt due to the heat-not-burn technology and special dual heat source oven system.

The simplicity of having one button on the device is something I'm a huge fan of. You simply don't think "What temperature am I at?" or "Is my herb going to burn if I push it another 10 degrees?" - perfect for being out and about or if you are new to the world of vaporizers.

Discreet – The Omura S1 is very, very discreet. You can carry around the flowersticks as easily as a packet of cigarettes, they are in their own box and non-intrusive. When you need a session, it really is as easy as popping one of the flowersticks out and popping it into the device, smoking it, and disposing of the flowerstick. Vaping hasn't ever been made easier.

No cleaning – Thanks to the design of using individual flowersticks, there is quite literally 0 clean-up between sessions or charges. You dispose of the used flower, and other than the occasional crumb you may have to wipe off, the device stays clean session after session.
Controlling the Omura S1
The s1 is as simple as popping a flowerstick in, pushing the button down until you feel a vibration and waiting 20 seconds. Then, when the second vibration is felt, you're ready.
That's it. Really. There's nothing more to it.
With just over 3 minutes on one cycle, the S1 will heat your herb up throughout the session, but not to a point where it burns the flower.
Vaporizer Performance
The experience overall is very enjoyable. I'm surprised how potent and how much flavour the Omura S1 manages to pull out of the relatively small dosage sticks. And for how good the performance is, the fact the battery life lasts around 12 sessions is surprising.
Each session feels like a tailored experience, almost the same feeling as going outside for a cigarette break, but with dry herb vaporizing. This is what's most amazing to me about this device. It's just so incredibly easy to have around and enjoyable to use, as well as packing a punch equal to other vapes on the market which aren't as intuitive.
The focus on taste and efficiency, where in which the entire stick gets used without burning, allows you to get more out of your flower, which in my head is always going to be a massive plus to a device's performance.
Vaping Experience
The vapour feels the right temperature, it packs a punch and the flavour is incredible. It feels like a vape, even though it doesn't feel like a dry herb vape.
You never have to worry about the flower combusting in a session and ruining the flavour, then having to clean out the burnt flower to prevent the next session from tasting burnt, and then having to deal with the fact you've just ruined one of your sessions and some flower.
Omura have you covered, and have got their settings down - they don't bother with multiple buttons, settings, dynamic modes or flashy screens. It's just press the button and go - they've got you, they've worked it all out, just relax and enjoy your session.
By the end of the cycle, there's normally still one or two hits you can squeeze out of it before it cools down, which just adds to the experience overall.
I've also found it incredibly useful to be able to pack multiple flowersticks with different flower types for different friends who wanted to have a go. Want to change out the flower type for a friend? A friend wants to use their flower? Easy. Just fill a stick, and it's yours to enjoy. No cleaning necessary.
How to clean your Omura S1?
There is no cleaning. One of the most annoying parts of owning a dry herb vape is gone. The flowersticks are compostable and disposable. It doesn't get dirty. There is no residue.
I know it sounds too good to be true, especially when I think back to the hours and hours of time I've spent cleaning out my Crafty or Mighty vaporizers, but really, this thing just doesn't get dirty. And I've put 4 packs of flowersticks through it already.
If you just want something that works and doesn't need maintenance, then this might just be the perfect vape for you.
Hidden Features of the Omura S1
The USB-C charger! Yes, Yes and Yes. It charges extremely fast, even within minutes you can see the indicator lights filling up. I love it when companies include USB-C, as it costs them barely anything more to include them on their devices, and it allows you to run about with the device and use the same charger as your laptop or phone.
Other than that, what you see is what you get with the Omura S1, and I'm happy about it. No hidden special Bluetooth app settings which drain your battery and feel like a gimmick to begin with anyway.
Pros and Cons of Omura S1
The Omura S1 is made for pure convenience, and it does it exceptionally well. I've found adjusting to the 1/10th of a gram dosing size very comfortable, as the device uses all of the flower. You don't waste any of your product when using the S1, as it uses a pre-programmed heating curve to squeeze every ounce out of what you put into the flowersticks.
It is discreet, portable and easy to use. All the thinking has been done ahead of time, and you can simply push the button and enjoy the session without having to worry about any settings.
It can be a little tough sometimes to get good airflow through the flowersticks, but I've never had it be a major problem, and I'm still able to get tasty flavour as well as potent vapour out of the device.
I've heard some people say that the battery life isn't the best on the Omura S1, as it "only" lasts for about 12 sessions of 3 minutes. But to me, by the time you've went through 12 sessions, which is an entire pack of 12 flowersticks, It's definitely time to charge the device, and you can do so from anywhere thanks to the USB-C port. I see this as a pro.
The vapour clouds aren't massive, so if you're looking for huge hits and massive clouds, you're not going to find it from the Omura S1. The device is more focused on squeezing everything out of the flower and giving you an enjoyable experience which still has potency.
Who is the Omura S1 For?
The Omura S1 is for people who don't want to be seen with a massive chunky vaporizer, who want a device that just works at the push of a button and is extremely low maintenance.
It's for beginners and veterans alike, people who want to get everything out of the flower they put into a device and who want to track their dosages precisely.
It's for professionals who want to be extremely discreet when they're out and about, but still be able to enjoy a session or two when there's time. Furthermore, it's for those looking to get into the dry herb vape world but are overwhelmed with how many settings there are out there.
I truly think this vape is suitable for anyone.
Get 5% OFF Now with code:
LOVE5
Is the Omura S1 Worth It?
You pay for convenience and discretion across all aspects of life, this is no different, and if your priority in a vape is both a stealthy sleek device which someone wouldn't look twice at when out and about, as well as a device which is incredibly low maintenance, then the Omura S1 is absolutely worth every penny. If you're someone who want a powerhouse of a machine with a lot of vapour, where you have more control over your own flower, then Omura's line of products might not be for you.
---