Boundless Tera Vs Mighty Vaporizer | A Comparison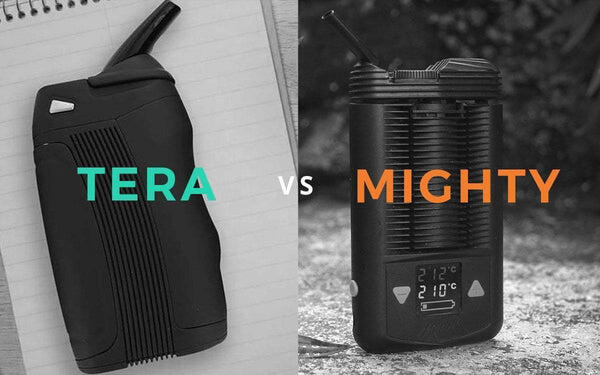 Due to the large variation and selection of dry herb vapes on the market, it can be difficult to find "the one". With the recent of the boundless Tera the question everyone is thinking how does it compare to the mighty? who would win in the fight of  Boundless Tera Vs Mighty Vaporizer. Of course, the final decision is up to you, but we would like to share crucial info about both products, that we are sure you'll want to know.
Boundless Tera Vs Mighty Vaporizer
Vapor Quality
The Boundless Tera is a full convection vaporizer; meaning it heats the herb with hot air instead of directly making contact with a heat source. Convection heating creates a high-quality vapor that tastes wonderful and maximizes the effect of the herbs used. Dry herb vaporizers are known to sometimes overheat the herb, but this does not happen with the Boundless Terra; it offers high quality vape always.
The Storz & Bickel Mighty Vaporizer on the other hand has a built in cooling unit, which cools the vapor before it gets to your mouth; maximizing the quality of the toke and vape. It is easy to use; simply select the temperature  range, add in herb, wait only a couple minutes for it to heat and enjoy high-quality, big clouds. Both vaporizers offer high-quality vapor and air flow, compared to other vaporizers on the market. The Mighty Vaporizer might have a slightly better vapor quality however, due to its build in cooling system.
Handpicked Related Content:
Portability
When it comes to vaporizers, portability is super important. Preferences vary, depending on size however. Both of these vaporizers fit perfectly in the palm of your hand but do not exactly fit in your pocket. However, they are great to take on the go in a purse, coat pocket or hoodie. In some ways this is beneficial, for they are easier to find and not easy to lose. The Boundless Tera Vaporizer is slightly smaller than its competition but a bit wider; so in portability, they are very similar.
Durability
Durability is super important when it comes to portable vaporizers. The last thing you want is something that will break on the first drop; this is where the Mighty Vaporizer gets a point. It is super durable and it one of the reason for its prolonged popularity. It does not have any glass parts; making it easier to take on the go in a backpack or suitcase. Pieces are also extremely easy to find but the package already comes equipped with spare sealed and screens.
The Boundless Tera on the other hand has a durable stainless steel body but is equipped with a glass mouthpiece; making it easier to break if dropped. The power button and other buttons also have a slightly bad make and can become lose. Furthermore, the Boundless Tera might be better for people that are slightly less clumsy.
Read Boundless Tera Review for more information!
Battery Life and Quality
The Mighty Vaporizer has one of the best battery units on the market, hands down. It charges in only a couple of hours and offers a good 90 minutes of continuous use on only one charge. You can also use the vaporizer while it's charging, which is great for those "need a hit" moments. However, this vape is not USB charged, so it is necessary to charge before setting out.
Read Mighty Vaporizer Review for more information!
Furthermore, the Boundless Tera vape also has great battery quality. It also is equipped with one of the most powerful batteries, considering its price. It has 2 swappable 2500mAh batteries, which allows constant use; if one set runs out, you can just pop a second set in, it's that simple. They are USB chargeable, making it super easy to charge on the go, whenever it's needed.
High Quality Vaporizers, both TERA and Mighty
Both of the vaporizers we compared in this article are high-quality products that offer high-grade vape and performance. At the end of the day, they both are incredibly well-made and are well-known in the vape community. They are both compatible with wax and dry herb, widening the options of use flavor and experience.  As mentioned above, the final decision depends on the individual.
However, one thing that makes these vaporizers different is their price; with the Boundless Tera set over 100 dollars range and the Mighty Vaporizer set at over 400. Taking in to consideration their amazing performance, the prices are very reasonable. However, if you are looking for a vape that is cheaper but still high-quality, the Boundless Tera is perfect for you. If you have some extra pocket money however and want to choose something that is durable, high-quality and portable, the Mighty Vaporizer is your best option.
---