Arizer Air 2 Review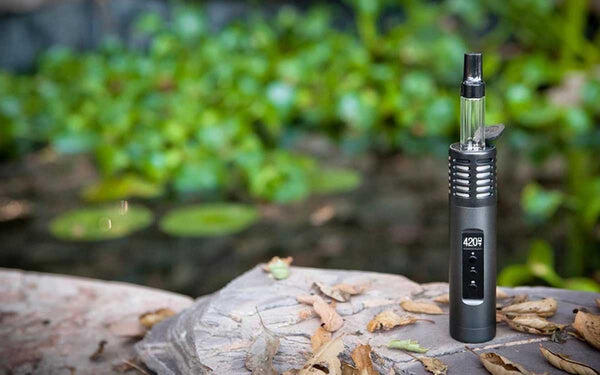 Update 2022:

Please note Arizer Air MAX is now available

The Arizer Air II portable vaporizer is the successor to the madly popular Arizer Air. It is brought by Canadian manufacturer, Arizer, who has built a reputation for making high-quality, reliable portable vapes. It has a number of improvements over the original Air, which are covered in some detail in our Arizer Air 2 review, below.
Build Quality
Let's begin our Arizer Air 2 review with the build quality. The vaporizer comes in a secure little box that holds everything you need to start vaping right away (dry herb excluded).
The Air 2 is similar in size, heating chamber capacity and construction to the Air but it now has a screen which displays battery life remaining and the temperatures and also takes you through a number of menu options for other settings.
The glass bowl comes away from the unit, so the carry case is really handy for making sure nothing breaks. The glass aroma tube and glass stem are 7 cm long and the same as the Air.
These mouthpieces come with stem caps. The chamber holds about .25 g of dried herb enough for a solid vaping experience. It loads like other Arizer products, fill the stem, tube, or bowl with the dry herb and insert it into the chamber.
The temperature ranges from 50C up to 220C on this vaporizer which, in terms of improvements over the original Air, offers users another 10C. It may not sound like much but many users enjoy cranking it up to that level, especially at the very end of a session.
You also have precise temperature control where the Air had five pre-sets. You can speed up temperature selection by holding down the plus or minus button so that it will jump 10C at a time, rather than 1C at a time achieved by tapping the buttons.
The Air 2 takes about 90 seconds to heat up on a full battery and longer when the battery is low, not the fastest heat up time in the industry. What you lose in power here though you are gaining in the size. There are definitely vaporizers in this class that have faster heat up times.
You get a choice of color with the Air 2 – carbon black and mystic blue. This vaporizer is backed with a 2-year warranty.
Handpicked Related Content:
Vapor Quality
No review can skip vapor quality and our Arizer Air 2 review will get to that all-important question now. The all glass vapor path helps to ensure your vapor has clean, full flavor. The quality has not improved substantially over the Air, which was also good. It produces a lot of flavor but the draws are not as powerful as the Arizer Solo 2.
Like most other portable dry herb vaporizers, you will achieve more flavor at the lower temperatures and more smooth vapor at the higher end. The vapor may get a little harsher toward the higher end of temperatures and the flavor will most definitely drop off up there.
Battery Life
The Air 2 uses replaceable batteries, so you can carry a spare battery for swap outs on the go. It charges with a micro-USB. You have a pass-through charging option with this vaporizer, allowing you to use the vaporizer while it is charging (in the event the extra batteries are down). The battery charges in about an hour and a half.
You can expect about an hour and a half battery life depending on use. You will use the battery up quicker at higher temperature and conserve more at lower temperatures, like all other battery operated vapes. No surprises there.
Checkout:- Best Dry Herb Vaporizers 2022
Ease of Use
The Arizer Air 2 Vaporizer is really easy to use and easy to clean and maintain. Adjust your temperature with the up and down buttons and follow the menu to change any other settings you want. For example, you can set a session timer for anywhere from 5 to 15 minutes.
It has an auto shutoff and a start delay (2, 4, 6, or 8 seconds) so you can't accidentally start it up while it's in your pocket, purse or bag.
Portability and Discreetness
The Air 2 is the smallest of the Arizer vaporizers. This is definitely the most discreet of the Arizer line. When using it in public areas, a lower heat setting will produce less vapor with more flavor as a bonus. The screen can also be set too low to be less noticeable.
The carrying case lets you pack up and go with this little vaporizer. The double batteries, good battery life and USB charger also make this very portable. Where portability becomes a problem are the glass aroma tube, stem and bowl.
Glass is far too easy to break, making this produce completely unfriendly in your pants pocket, the bottom of a purse or a bag. We recommend using the carry case or carrying the unit and its pieces in a protected backpack or even in the box itself. Better safe than broken!
Conclusion
We have covered a lot of information in our Arizer Air 2 review and we'll sum it up here. The Air 2 looks and feels similar to the Air and provides the same good vapor quality.
It does have a number of improvements over its older version though – including a screen with a number of options you can customize for your personal vaping needs, a better battery life, better charging and replaceable batteries for swap outs.
It is a solid, reliable portable vaporizer that is more discreet than many vaporizers in its class. While it is very portable, you will need to be protective of the glass inserts.
It is easy otherwise to take on the road, easy to clean and easy to maintain. Best of all, it could not be easier to load. When you're on the go, you can even preload the glass inserts so they are ready to pop in and begin vaping.
Overall, this is a fantastic portable vape for beginners and experienced users alike, all at a decent price point. It will never give you the huge billowing clouds of a desktop vaporizers but it will do the job and it will do that job very well.
This trusted information is sourced from the manufacturer and our own experience with the Arizer Air 2 Vaporizer.
---