RosinBomb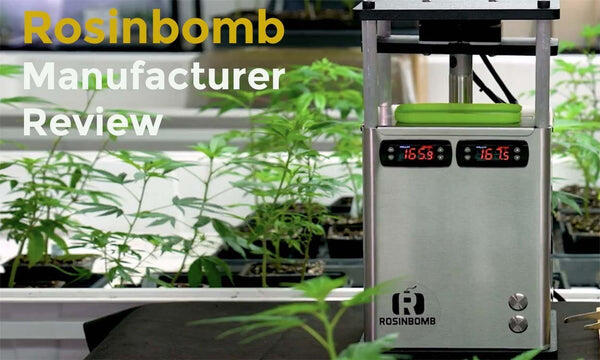 RosinBomb - Rosin Presses
Overview
In today's vape market, there are thousands of manufacturers that strive to offer their users the best products possible, and who work hard to offer the absolute best experience with their products.
RosinBomb is, of course, one of these manufacturers, but it has something up its sleeve. RosinBomb has been able to offer unique products for over a decade, and despite it's competition, it continues to strive.
RosinBomb, unlike the majority of the manufacturers on the market offer products that allow users to make their dry herb experience a more hands-on affair.
About RosinBomb | What Makes Them Unique?
RosinBomb loves to boast about their "years of research and development" that has allowed them to perfect high-yield, plug-and-play rosin presses.
You may be wondering now what a rosin press is, and why the presses RosinBomb offers are so unique.
Rosin presses are the machinery behind the materials you love: wax, dabs and other sticky extracts.
One of the reasons why these materials are so popular and widely used is all thanks to the efficiency of extraction from rosin presses. With heat, time and a lot of pressure, rosin presses are capable of extracting all the 'good stuff' from herbs.
This is exactly what RosinBomb offers — some of the most high-quality rosin presses on the market. However, it doesn't stop there.
Not only does RosinBomb work hard to offer the most impressive and innovative press technology, but also design and craft their products to be used by all types of sticky material lovers.
Due to the ease of use and the small, compact size of the products RosinBomb offers, people get to bring impressive, innovative press technology into the comfort of their own home, and elevate their vape experience like never before.
RosinBomb Presses | What They Offer
In the collection of products that RosinBomb offers, we find 2 rosin presses, each offering something unique. This is what RosinBomb has to offer…
RosinBomb Rocket
The first rosin press we have in RosinBombs collection is the Rocket. As its name implies, the Rocket is able to offer "out of this world" performance.
However, although the Rocket is literally able to pack a punch, it is still small and compact, making it perfect for at-home use.
The Rocket is small enough to fit into a backpack, which allows users to also take it on the go and use it outside of the house.
This impressive unit is able to apply a whopping 1,500+ lbs of force while only weighing 13 lbs! Pretty darn impressive.
The RosinBomb Rocket crushes up to 5 grams of materials and does so quietly and efficiently.
Who the RosinBomb Rocket is Perfect for — Out of the presses that RosinBomb offers, the Rocket is their most affordable unit.
The Rocket is also the smallest and most compact unit. This means that this unit is perfect for those looking for high quality, powerful press that is still offered at an affordable price.
It's also perfect for those that are looking for a quiet, discreet press option. The Rocket is definitely one of the most impressive units on the market with its small size and quality build.
RosinBomb M-50
The RosinBomb M-50 is like the Rocket's big brother. Compared to the rocket, the M-50 is designed to be even more powerful!
Applying a mind-blowing 5000+ lbs to offer the most efficient extraction from your materials, the M-50 isn't like any other press on the market.
Although it is only 16 inches tall and weighs only 35 lbs, it is capable of crushing up to 14 grams at once!
Unlike the Rocket, the RosinBomb M-50 isn't as small or portable, so it is more recommendable for at-home use.
Who the RosinBomb M-50 is Perfect for — The M-50 is one of RosinBombs priciest unit, so it is better for those that are ready to make an investment in a press.
Thanks to the incredible power and efficiency that the M-50 offer, however, there is no need to worry about prices.
This unit is designed to last far into the future and offer flawless performance.
With the 14 grams, it is able to crush, there is no doubt that this unit is perfect for those that want the most powerful press available.
With either of these products, be it either the RosinBomb M-50 or the RosinBomb Rocket, there is no doubt that all you will experience is the absolute best press technology. 
With the quality that RosinBomb units offer, you will be able to take your experience to the next level and enjoy your materials like never before.
---