Davinci MIQRO-C Review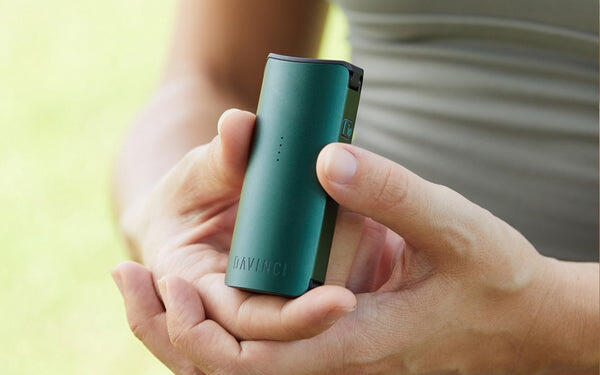 The DaVinci Micro C Vaporizer is a compact, elegant, and lightweight version of the DaVinci IQ2 and IQC vapes.
DaVinci Tech devoted considerable attention to making the MIQRO-C an economical yet worthwhile vaping experience. Despite having many of the same Davinci IQ2 and Davinci IQC features as other models, certain elements had to be reduced in order to reduce size and costs. The result is one of the smallest, yet most powerful , portable vaporizers ever made.
Before buying the DaVinci MIQRO-C Vaporizer, it is essential to gain an understanding of all its features, which are discussed in this article.
Davinci Miqro-C Vaporizer Features:
Compatible with Dry Herbs and Concentrates
39 Second Heat up Time
Type-C charger
Has a Compact Design
Lighter Weight and smaller size add in Portability
Glass and Zirconia Internal Components
Removable and Chargeable 18350 Battery
5 Years Warranty
Design & Settings 
This is a sleek vaping device enclosed inside a shiny metallic shell. It would look very classy when you see it for the first time. It has smooth edges so that the overall feel will be comforting.
To guarantee that the vapors reach you at a consistent temperature, the DaVinci MIQRO-C has a zirconia air path with no metal or plastic parts.
It is important to keep in mind that the taste and aroma of vapors will never degrade. CleanTech is a popular enhancement for this device, which helps ensure its vapor purity and quality.
The Davinci MIQRO-C vaporizer is designed with a simple one button operation and pre-set smart paths. All you need to do is fill the chamber with herb or concentrate and press the single button to activate the vaporizer. The vape will begin to heat up to the preset temperature automatically.
To get the best out of your vaping experience, you should adjust the temperature according to the type of herb or concentrate you are using as different materials react in various ways to heat.
Pro tip for smooth vapor: Replace the flat mouthpiece with the extended mouthpiece and connect your MIQRO-C to your favorite glass-wear. 
Compatibility
The DaVinci Miqro C is a dual-purpose vaporizer for dry herbs and concentrates. However, the concentrate pods are sold separately. Why Davinci doesn't include one pod with the device is a mystery and will have a negative impact on uninformed customers.
Checkout: - The 13 Best Wax Vaporizers Canada
The included extended mouthpiece also works as a 10mm water adapter. Perect for micro-dosing with your favorite glass piece. 
Size and weight
The DaVinci Miqro C is a very compact device, as it has a slim design that can easily fit in your pocket - measuring 80 mm x 34 mm x 23 mm.
It's clear from its size that the DaVinci Miqro C is designed for portability. Additionally, it's very lightweight at only 87 grams (even with a metal body). 
Clean & Fast Heating System 
Additionally, the Davinci MIQRO-C has a quick heat-up system that activates immediately when turned on and reaches the desired temperature in 39 to 45 seconds.
Using the automatic smart path technology with precise temperature management ensures that your herbs don't require dangerous external heat sources, such as torches, lighters or hemp wicks, and you won't lose the flavor by directly heating them.
The DaVinci Miqro C is equipped with a ceramic heating chamber that is lined with glass to preserve flavor and taste. It also has a capacity of 0.3 grams. Users can also reduce the 0.3g oven by up to 50%, accommodating small loads, by twisting insulative zirconia spacer counterclockwise.
The dosage pod compatibility of this product is less than IQ2 or IQC, but it still provides a great micro-dosing experience by reducing the capacity to 0.2 grams and ensuring that a small dose is packed properly to achieve ideal vapor quality.
Clean tech is a term used by Davinci to describe the use of technology that promotes sustainability and reduces the environmental impact of traditional energy production. This includes renewable energy sources such as wind, solar, geothermal, and hydroelectric power, as well as energy efficiency initiatives like LED lights or smart buildings. The Davinci MIQRO-C is a perfect example of clean tech in action.
Temperature Range & Settings
The DaVinci MIQRO-C has a temperature range of 149-221°C.
The company has declared the DaVinci MIQRO-C to be for dual use, but MIQRO-C cannot produce the high temperatures necessary for high level concentrate vaping. It doesn't give you the same flavor or massive big clouds as vaping concentrates with Puffco Vaporizers. 
Temperature settings
The DaVinci Miqro C endows you with two adjustable settings. You can customize the intensity precisely using steps of +/- 1 degree Celsius or use the prearranged temperature options. You can select between the four preset temperature intensities.
These four Smart Paths offers versatile temperature settings with 20-degree increments that make it an ideal vaporizer for beginners and seasoned users alike.
Portability & Battery life
Because of its small size, the Davinci MIQRO-C is remarkably portable , and its included travel case only adds to its convenient portability. Its sleek size also allows you to grab it easy and insert it into your clothing.
The Davinci MIQRO-C comes with a removable 18350, 900 Mah, rechargeable battery that will last approximately 30 minutes. This should provide more than enough time to take in the hit of your desired substance when needed.
The DaVinci Miqro C is compatible with USB-C charging cables, boasting an impressive 90 minutes of charging time!
Additionally, MIQRO-C also includes a charging passthrough feature so you can keep vaping while the device is recharging.
With the DaVinci Miqro C, you can enjoy a great battery life with the ability to switch out extra sets of batteries, as well as a quick charging time. Plus, it's very portable and can be taken to any place of your liking.
Warranty & Safety
The DaVinci Miqro C includes a five-year warranty that lets you request repair or a refund from the company if the device doesn't meet your expectations.
Highly secure to use. This device has gone through testing for numerous heavy metals and has the approval of Rohs. It is insulated effectively to protect you against any electric shocks or heat build-up. Additionally, the isolator ceramic air track lowers the temperature of the vapors adequately to make sure they do not harm your breathing.
Pros
This device is both stylish and reliable
Affordable Price
This product is suitable for both dry herb and concentrate use
The vapors can be prepared quickly.
High-Quality Vapor
It charges quickly
You can carry an additional battery since it's removable
The ceramic chamber and the isolated vapor path create a powerful combination for producing excellent vapor quality.
Cons
The variation in temperature is small.
The session per battery doesn't last very long, only 30 minutes
No extra battery included
Rather than an LED grid, there are four small indicators.
Davinci MIQRO-C Vaporizer FAQ
What can you smoke in the Davinci MIQRO-C?
The newest Davinci MIQRO-C vaporizer lets you smoke all kinds of dry herbs and concentrates, giving it an edge over the previous model (Davinci MIQRO) which was only compatible with dry herbs. However, please note dosing pods are sold separately for concentrate vaping.
How to clean the Davinci MIQRO-C?
The Davinci MIQRO-C is designed for convenience, allowing you to more easily clean the few components that need to be cleansed after each use for a crisp and clean experience.
For optimal cleaning of the Davinci MIQRO-C, you should use warm soapy water or isopropyl alcohol. Start by placing the zirconia pieces into the ISO for disinfection, then submerge the mouthpiece into a container filled with warm but sudsy water and gently scrub to remove all dirt and grime; that's it for the parts!
The ceramic oven can be cleaned using pipe cleaners or a brush and the body can be swiped clean using a cotton swab.
To find the best eco-firendly cleaning gear, check out our Cleaning Supply Collection.
Does it Come with a Warranty?
The Davinci MIQRO-C vaporizer is covered by a 5-year warranty, so if any of the parts malfunction or it stops working properly, you can take advantage of the warranty. 
What Comes in the MIQRO-C box?
The Davinci MIQRO-C comes in a box, containing a travel pouch which makes portability easy when you're on the go.
Featuring advanced glass and zirconia components, the Davinci MIQRO-C has a removable/rechargeable battery that provides almost 30 minutes of use.
The Davinci MIQRO-C comes with the following components:
MIQRO-C Vaporizer
Mouthpiece / 10mm Water Adapter
USB Type-C Charging cable 
18350 Battery
Cleaning Kit   
Alcohol Wipes
Final Verdict of Davinci MIQRO-C
The DaVinci Miqro C Vaporizer has achieved a respectable amount of love from our team already. It is credited for its quick heating time, classic system, and effortless approach. This vaporizer does not rival IQ2 and IQC in terms of power and efficacy. However, it is the 'Miqro' variation of the two devices.
DaVinci Miqro C is significantly more affordable than other DaVinci products and still has a few very useful and cost-efficient features. If you are on a budget but still would like to invest in an IQ2 or IQC vaporizer, the DaVinci Miqro C offers nearly similar quality at a lower price. For light users looking for a portable, micro-dosing, budget vape this new device is the jackpot!
Get 5% OFF: 
  LOVE5  
+ Free Shipping Canada
Checkout: - The Best Dry Herb Vaporizers
---