Mighty Vaporizer Vs Pax 3 Vaporizer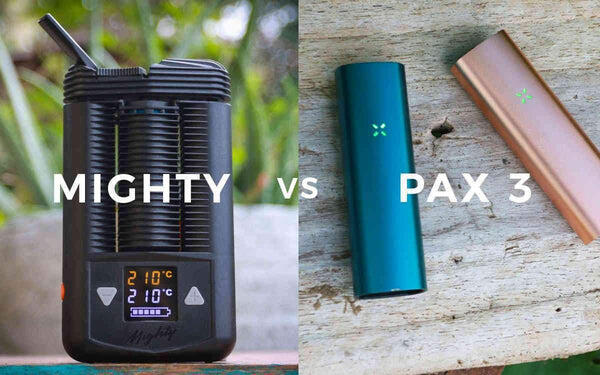 In this vape comparison (vaparison, even) we'll be going over the strongest points of both the Mighty vaporizer and the PAX 3 vaporizer in hopes of helping you figure out which one is the best for you.
Both vaporizers are considered "public favorites", and both are on the deluxe side of vaporizers because they both have wonderful and unique features. It will definitely be hard to choose a favorite between these two!
Feature Overview: Mighty vs Pax 3
We have come up with a list of categories we think are the most important when assessing the true strengths of a vaporizer. All of them together should give you a better picture overall.
| | | |
| --- | --- | --- |
|  PAX 3 (Score out of 10) | FEATURE | MIGHTY (Score out of 10) |
| 10 | Durability | 10 |
| 9.5 | Vapor Quality (Dry Herb) | 10 |
| 6 | Vapor Quality (Concentrate) | 8 |
| 9.5 (22 sec. or less) | Heat-Up Time | 6 (1.5-2 minutes) |
| 10 | Portability | 8 |
| 10 | Preset temperatures | N/A |
| 8 | Temperature Range | 10 |
| 9  | Battery Life | 10 |
| 10 | Ease of Use | 10 |
| 9 | Easy Cleaning | 8.5 |
Hopefully, this article will turn you in the right direction, and lead to you buying the very best vaporizer for you. Here are the links to both products, in case you would like to take a look at them yourself:
We Recommended the New Mighty+ Vaporizer
Get
5% OFF

Now with code:

LOVE5
PAX 3 New Colors
Vapor Quality and Vapor Production
The Mighty is well known for its amazing vapor production and is well-loved for the amount and quality of the vapor it produces. The Mighty doesn't produce massive amounts of vapor like some vaporizers do, but many seem to like it that way - this vapor makes up for its size in density!
The vapor taste and overall feeling is amazing, and I love to use my Mighty at all times of day, whether I want to chill out a bit, or I want to feel more upbeat. The Mighty is perfect for every mood. The vapor is always spot on, and I'm always satisfied with it.
If you like a vaporizer which produces tasty vapor, and dense but discreet clouds, I believe that the Mighty has all you want. Also, if you do purchase a Mighty, my pro tip is to vape it at a lower temperature at first so you get all the great taste, and then increase the temperature as you continue your session so you can get the most out of your product.
The PAX 3 vaporizer could be considered on a whole different level from the Mighty, not only because it produces great tasting vapor in big quantities, considering the size of the vaporizer.
It also has a reputation of producing cool and smooth vapor despite not having a cooling unit in the vaporizer itself - so that speaks a lot for the amazing craftsmanship of the device.
The PAX 3 is very much the evolution of the PAX vaporizers, and it embodies how a modern vaporizer should operate, especially in terms of vapor quality and production. I feel I get the most out of my products, not only in terms of vapor production but in terms of terpene content and full-bodied flavor.
If you feel like you would like a vaporizer which is smaller and more compact, yet still produces vapor equally as amazing as that of larger vaporizers, I think that the PAX 3 is more than a perfect option for you. Not to mention that the PAX 3 is much lighter and easier to vape on the go than the Mighty vaporizer.
Battery Life, Portability, and Discreteness
The Mighty vaporizer has one unique feature which sets it apart from many other vapes, and that is the double battery feature. It comes complete with 2 lithium-ion batteries which are made from high-quality materials, and which provide the vaporizer with an amazing battery life.
The best part about the dual battery feature in the Mighty vaporizer is actually the portability it allows the unit because these batteries make the vaporizer last twice the amount of time it would have lasted with just one.
This allows users to take the Mighty everywhere and anywhere without having to worry about the batteries running out of charge.
The additional perk to this feature is the fact that one can purchase extra batteries, and charge them while using the others, that way there is no chance of running out of battery power ever! Although, when it comes to outer appearance, the Mighty vaporizer isn't the most discreet vaporizer on the market - its dimensions are definitely not the most compact, especially when compared to the PAX 3 vaporizer.
But it is definitely portable enough to take on your adventures and to store in any of your handy packs, purses, or pouches.
The PAX 3 has an amazing battery life for such a small battery and unit in general, and therefore when considering those factors, one can definitely conclude that the battery life for the PAX 3 is quite sufficient.
The PAX 3 doesn't come with any fancy 2 battery features, but the battery already inside it lasts around 8 to 10 sessions, which is one of the top battery lives for units this size.
This long battery life allows you to take the PAX 3 anywhere at any time, but what makes this vaporizer the most portable is its size. It's compact, it's the perfect shape, and it really does fit anywhere from a woman's jeans pocket, to a pack, to a jacket pocket, etc.
Therefore, yes, it is quite convenient to have a long battery life so you don't have to worry about the battery losing its charge, but it is even more convenient to have a small, compact vaporizer that fits anywhere that also has great battery life.
When it comes to discreteness, I also have to tip my hat to the PAX 3, because it produces smaller, denser clouds which are perfect for public spaces, and it is also super easy to conceal in a matter of seconds when necessary - so I recommend this vaporizer for its discreteness, as well as its battery life and portability.
Design and Craftsmanship
This vaporizer is unique, especially when compared to many other dry herb vaporizers on the market, its looks are definitely not what one would call dainty or delicate. On the contrary, the Mighty vaporizer looks much more like some sort of power tool or something which will be used every day for a long time, if that makes any sense.
It has a hardcover, it has big grips which keep it from falling, its mouthpiece looks pretty hardcore, and it looks altogether quite industrial.
But the way that the Mighty is made really does make it last for much longer than any ordinary vaporizer, and that is definitely something to value, as you will be able to drop this vaporizer several times before it gives up, and that is a feature to cherish for sure.
Practically opposite to the above-mentioned vaporizer, this one is quite dainty, very delicate looking, though solid, and quite a pretty looking piece.
But though this might look too pretty to use, the PAX 3 is actually quite usable and safe, since it is made from very high-quality materials and built with amazing craftsmanship. So don't worry about dropping it because it is made to resist even the clumsiest of users (like me)!
I have to say that the PAX 3 vaporizer appears to be made with amazing craftsmanship, and by people who know exactly what they're doing, for the PAX 3 is solid and resistant, and I can't find one place where the quality was inconsistent.
I am always very impressed with the quality and great craftsmanship of the PAX 3 vaporizer, and I recommend it above any of the vaporizers on the market today.
Conclusion, Mighty or PAX 3
As you can see, these vaporizers are very different in some aspects such as their appearances and models, but they are both very similar in the sense of high quality make good designs and great vapor production.
I can see where picking a favorite would be hard, but I really recommend either one of them depending on what you're looking for in a vaporizer!
Who is the Mighty Best for?
The Mighty vaporizer is a great vaporizer for practically anyone. Whether you're just starting out your vaping experience, and you would like to begin with a vaporizer that is both easy to use and worth your money, the Mighty is a great selection.
On the other hand, if you're well-acquainted with the world of vaping, but you would like to upgrade your vaping experience, the mighty will allow you to do just that -- and more!
When it comes to portable dry herb vapes, it doesn't get much better than the Mighty. Therefore, if you've been considering it throughout your vaping journey, you shouldn't let this opportunity escape you. Get the Mighty now - you'll love it!
Who is the Pax 3 Best for?
The PAX 3 is a great vaporizer all around. It is easy to understand, easy to store in any small pocket or pouch, and it is quite discreet.
Therefore, if you're a person who is starting out their vaping journey, and you want something easy to control, easy to load and clean, and easy to take anywhere, the PAX 3 is the best vaporizer for you!
Of course, many people who have more vaping experience love it too because using it is less 'drama' than many other vapes on the market, and it still produces some of the best vapor on the market.
 Also Read: Pax 3 Vs FireFly 2 Plus
So if you've been eyeing the PAX 3 during this comparison, there is no reason that you shouldn't go ahead and treat yourself to one of the best vapes on the market. Buy the PAX now, I know you deserve it more than anyone!
Conclusion, Mighty Vape or Pax 3?
As you can see, these vaporizers are very different in some aspects such as their appearances and models, but they are both very similar in the sense of high quality make good designs and great vapor production.
I can see where picking a favorite would be hard, but I really recommend either one of them depending on what you're looking for in a vaporizer!
Regardless of your personal choice, you should definitely treat yourself to this little gift, and improve your vaping experience. You'll love your vape, and you will most definitely be happy with your choice!!
---