Volcano Medic Review - Tempt Your Curiosity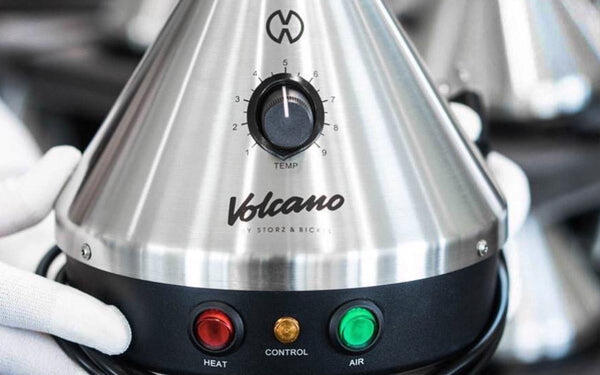 The Volcano Medic took the vape community by storm and for a great reason. This super powerful desktop vaporizer, manufactured by the well-known Storz and Bickel, is a rebrand of the super-popular Volcano Digital. The Volcano Medic has been improved and brought up to the next level, thanks to the time and effort from the Storz and Bickel team. It truly is one of the best vapes on the market, period.
The Volcano Medic Stirs up Curiosity and Google Searches
One of the things that makes the Volcano Medic so special, is the fact that it is one of the first vaporizers on the market to be 100% medically approved. This vaporizer is so well-made and offers such incredible quality,
that it is literally recommended by professionals to patients that want to receive the benefits of THC. So, if there is any unit on the market that should be called the best, the Volcano Medic is definitely one of them.
Buy Storz & Bickel Volcano Medic
Vapor Quality
For the Volcano Medic to be 100% medically approved, there was one sole thing that had to be taken in to close consideration: the vapor quality it offers. Why is the vapor quality of a unit so important you may ask?
The vapor quality a unit offers determines not only how much a user will enjoy their unit, but also how healthy or safe that unit is. Vaporizers were specifically invented to offer a healthier alternative to smoke, so if a vaporizer doesnt produce pure, clean vapor, it cant really be called a quality vaporizer.
Vapor quality is one of the things that makes the Volcano Medic so amazing, for no unit on the market can come close to the pure, refined, cooled vapor it offers.
Not only does it offer some of the best quality vapor, but it also produces some of the biggest clouds on the market (which Im a huge fan of). With the Volcano Medic, you can feel confident that all your vape needs and craving will be completely satisfied always, for that is exactly what I experienced.
The Volcano Medic does not offer such quality out of pure luck though. Storz and Bickel spent their precious time designing and manufacturing this unit to complete perfection, and thanks to their consideration, now thousands of vape lovers like myself can enjoy a healthier, more high quality vape experience. They took into consideration the smallest details, and because of this, it's actually hard to find any bad parts in this unit.
The Volcano Medic utilizes a hot air convection heating and additional conduction heating to produce huge clouds of smooth, delicious vapor.
Its high tech cooling system also does an amazing job at perfecting the vapor before it ever touches your lips, which leaves you always wanting more.
Thanks to these details, the Volcano Medic is able to offer some of the best vapor on the market, and even if I consider myself a vape OG, I had never experienced something like it before.
Build Quality
The Volcano Medic has one of the most iconic builds. It has the shape of a small volcano (as its name implies) and looks more like a work of art than a vaporizer in my opinion.
It is not as fancy or colorful as other vaporizers on the market, but this is because Storz and Bickel wanted to design a unit that was powerful and impressive, not specifically a picture-perfect vaporizer.
The first thing youre going to see when unboxing this unit is a beautifully cone-like body made of brushed stainless steel and a big LED screen on the front.
From the moment I laid eyes on the unit, I could truly see the quality with my own eyes and experienced for the first time what a real desktop vape should actually look like.
Features
The Volcano Medic has a feature that makes it completely unique from other desktop vapes on the market and that I fell completely in love with. It features a super-smart Balloon Delivery System, that allows you to enjoy vape in a new and enjoyable way.
Unlike other vaporizers that allow you to take hits directly from the unit itself, the Volcano Medic comes with balloon-like bags that are attached to the tip and get automatically filled with an impressive amount of delicious vapor.
One of the reasons why this balloon delivery system is awesome, is that in these sealed bags, you fill them to the brim with fresh vapor, and either share with friends, take them on the go or simply save them to be used later during the day.
This awesome feature allowed me to enjoy vapor throughout the day and have small vape session without having to even worry about loading the unit.
Another great feature that the Volcano Medic boasts, is that it can be used with almost any time of materials! No matter if you are a dry herb lover, or oil and concentrates fanatic, this unit will allow you to enjoy the absolute best vapor from your favorite materials. The versatility this unit offers is truly great, for who doesn't love trying new things and switching things up a bit? I sure do!
Temperature Control
Another factor that allows this unit to offer quality vapor and that allows it to be used with a wide variety of materials, is its impressive precise digital temperature control. It has a temperature range of 108C to 236C, that allows the unit to heat any and all types of materials to perfection.
The Volcano Medic also gives you complete control over your unit's temperature, so you can always choose the perfect temp, depending on the materials you are using and the vape thickness you want, which is hard to find in today's market.
The Volcano Medic has super easy to understand temperature controls. To change the temperature, you simply press the two big buttons to make your units temp go up or down.
The big LED screen will also always let you keep an eye on the temperature. Easy temperature controls are always a great touch in vaporizers, because no one really wants to have to deal with complicated instructions and features. Even if you are a vape beginner, you will be able to master these units temperatures in no time and feel like a total vape master.
Portability and Discreteness
One thing that the Volcano Medic isn't, is portable. Although many might think that this is a big no, no, this unit was actually designed to be that way. The Volcano Medic was specifically designed to be enjoyed in an inside setting, either in the comfort of your own home, at a house party or at vape sessions.
It falls in to the desktop vape category, meaning that it is not meant to fit in your pants pocket or taken on the go. I found that I could easily pack in to a backpack or bag (carefully) and could take it with me for vape sessions or house parties.
Another thing that makes this unit non-portable, is the fact that it does not have a battery, but needs to be plugged in directly to an outlet with its power source.
So, to use the Volcano Medic, you definitely need to be in a place where theres electricity and a nearby outlet to plug in the unit. The Volcano Medics balloons are portable, however! You can fill a bag and take it with you, share with friends and more!
Due to this unit size, build and design, it can not actually be categorized as a discreet vaporizer. So, for those that are looking for a unit that will easily be concealed or that will not stand out too much, this unit might not be the best option.
I found that its non-discrete build is not a problem, for it offers such amazing quality and functionality that it is more than worth it to have a bigger sized unit that stand out a bit.
Battery
As mentioned above, the Volcano Medic does not have a battery, but needs to be connected directly to an outlet with its power source. For many, this might be a big no no, but in reality, this makes the unit even more incredible.
Due to the fact that the Volcano Medic does not have a battery that needs to be constantly recharged, you can enjoy hours and hours of endless vaping goodness. It also means that there is no need to worry about replacing the battery in the future, for it will withstand years of use and offer flawless functionality far in to the future.
Thanks to its battery-free build, it is perfect for those that are looking for a more hassle-free, easy vape experience.
With the Volcano Medic, you wont have to worry about charging your unit any longer, or worrying about running out of battery. All you have to do to enjoy this powerful unit is plug it in, add your favorite materials, connect a balloon, watch it fill with fresh vapor, and you're good to go!
Who is the Volcano Medic Perfect For?
Due to the fact that the Volcano Medic has been 100% medically approved, it is more than perfect for those that are hoping to receive the benefits of THC in a more healthy and efficient way.
This unit offers some of the cleanest, most high quality vapor on the market, so you can feel confident that you will be receiving the best vapor from your favorite materials. Thanks to its smart heating, and high tech cooling system, you can also feel confident that you will be receiving everything that your materials have to offer.
This unit is also perfect for those that have been searching for a high-quality desktop vaporizer that will offer mind blowing amounts of vapor in a short amount of time. Since the Volcano Medic was released, it has been a favorite among at home vape lovers, so I am more than confident that you will fall in loves with this unit. It will allow you to store fresh vapor, share with friends and enjoy vape sessions like never before.
The Volcano Medic does not need to be charged, it has super easy to understand temperature settings and features, and is overall super user-friendly.
These factors make it perfect for vape beginners and OGs alike. It also makes it even more recommendable for those that want to enjoy a stress and hassle-free vape experience. It is definitely one of the best vaporizers on the market, and I am confident that it will become one of your favorites.
Unboxing the Volcano Medic:
The first thing I saw when I received the Volcano Medic, is a big fancy box that most Storz and Bickel units come safely packed in. I opened the box and started pulling out all the parts and pieces that come with this awesome vape unit. The box includes:
The Volcano Medic Vaporizer
1 Aromatherapy Blend Filling Chamber
A Balloon Set (Solid or Easy Valve depending on your choice)
A Normal Screen Set
An Air Filter Set
A Cleaning Brush
An Instructions Manual
At first, I really needed that instructions manual to get organized and figure out what to put where. After a little time, I put everything together, connected all the pieces and connected the unit to an outlet.
After getting my favorite dry herb and grinding it, I placed in the chamber, set the temperature and waited for the balloon to fill. It took a little over 3 minutes to fill. Once I took that first hit of fresh vapor from the balloon, I became a Volcano Medic fan instantly.
I truly had and continue to have a great experience with the Volcano Medic. Unlike other vaporizers, everything about it is simple, easy to understand and easy to enjoy. Im more than confident that you will fall in love with it just as I did. It definitely should be on your must-try list.
---