Ghost MV1 Vs Davinci IQ | A Guide To A Winner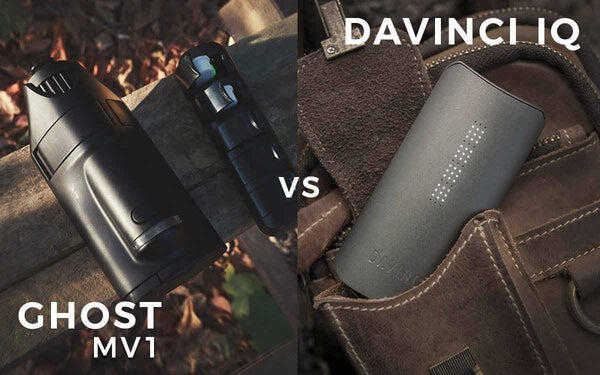 In this review, we will be giving you a head to head comparison between the public's favorite, the Ghost MV1 vaporizer, and the newer Davinci IQ. We love doing this kind of blogs and reviews for our special clients, because we know what it's like to like two separate vaporizers, but not want to buy them both.
Therefore, we create these for you to get a realistic view of what they are like head to head, and we hope to help you find the one which is best to you.
Both Vaporizers have Strong Points but there can only be one Winner.....to your Individual Needs!
If you have read more of our "versus" reviews, you will have noticed that we don't end up choosing a "favorite" or a "better option"; this is because we always like you to be able to choose the best one for you.
But what we do analyze ae things like temperature settings, vapor quality and quantity, look and feel, etc., and we leave it up to you to find your favorite vaporizer among the two or three which we review.  
Checkout: - Crafty Plus Vs DaVinci IQ2
So, without further waiting, here is the Ghost MV1 vs the Davinci IQ:
Vapor Quality
Many critics have recently said that the Ghost MV1 Vaporizer is quite new and innovative in the way that it has a different way of filtering and cooling the vapor it produces, which is by making the air flow along two silicone pads which are far from any of the electronic portion of the vaporizer, therefore cooling the vapor down.
This means that the vapor from this vaporizer is quite cool and smooth, and it eliminates the need of having an integrated water cooling system on the device, or anything of that sort.
When it comes to the size of the clouds I've been getting and that I've seen other people get, I have personally been quite impressed because they have all been really big and dense. I was actually quite surprised at the clouds I got the first time I used my Ghost MV1 because I wasn't expecting them to be that big in person (can you tell I didn't do my research before buying? Silly me).
I also noticed how tasty the vapor is throughout my session, so that's a big plus for me, especially when it comes to dry herb vaporizers, as they can get to be a little tasteless after a couple of draws; but not the Ghost MV1!
In addition to this, the clouds that the MV1 Vaporizer produces are nice and dense no matter what temperature I use, and regardless of whether I'm using concentrates or flower. So, I could say that I was all together very pleased with the Ghost MV1's cloud production, the taste of the hits, and the long lasting taste of these.
Now, on the other hand, the Davinci IQ is integrated with Smart Paths, which we will talk about later on in this review, but what that does for your vapor quality is actually amazing. To be honest, the Davinci IQ is not known to produce huge, dense clouds, as is the Ghost MV1 vaporizer, but it does produce really cool and smooth vapor, which is a really great quality to have.
The clouds which this vaporizer produces are, as above mentioned, not very large or dense, but I do have to say that when I draw from the Davinci IQ, it feels really great in my lungs, and it feels denser than what actually comes out after the hit.
So, though it may not seem that the clouds ar very big, they do feel quite dense when first drawn, and that feeling persists throughout my whole session, usually.
As for the vapor taste I've been personally experiencing, I have found that it remains tasty throughout the whole session, as does the Ghost MV1, and I have not found it to lose any of its tasty flavor regardless of the temperature I vape it on.
Look & Feel
The Ghost MV1 Vaporizer is a relatively new vaporizer, as I mentioned above, and it has a very unique and particular appearance which many people seem to love, including me! It looks very streamline, and very beautiful thanks to its shiny or glossy finish on the outside; and it looks very modern and sophisticated, in my opinion.
I'd say that the Ghost MV1 is great for people who would like a vaporizer that both looks fashionable or sophisticated and functions well at the same time.
On aspect which really adds to this vaporizer's look is the fact that the Ghost MV1 only has one visible button in the front, which is its "mode" button, and that is the only piece on this vaporizer that sticks out from the rest of the piece.
But the Ghost MV1 is cleverly hiding their chamber and loading chamber in the front; so it is not immediately apparent, which is really nice, since this part of it opens into the front of the vaporizer.
In summary, I really like the way the Ghost MV1 Vaporizer looks. I think it looks new and innovative, I think it has a look that sets it apart from other vaporizers, and I think that it is definitely a vaporizer worth showing off!
The Davinci IQ is also a very modern and streamline vaporizer in design, and I really love the way it looks; and to be honest, I feel like it looks a bit like the PAX vaporizers (just sayin'). Anyway, it has a really nice shape, no immediately apparent pieces of hardware, and only one really nice mouthpiece.
The colors it comes in are also really nice, and the finish which all the vaporizers have are quite fancy, in my opinion. In addition to the beautiful finish and colors, the Davinci IQ has a collection of 51 super small LED light which are meant to indicate temperatures, power, etc.
To summarize everything regarding the Davinci IQ's appearance, I just think that it looks super stylish, innovative, and minimalist, and I think that the Davinci IQ is a great apparatus for those who feel like they want to carry a nice looking, functional vaporizer.
The colors allow a lot of options, and you can match them to your personal style much easier than the Ghost MV1, in my opinion.
Temperature Settings & Battery Life
When I could go head to head with these in the same format as the last two categories above, I would rather just talk about each of the vaporizer's features, that way we can move more fluidly through the review, and you can see everything displayed in a nice way.
First of all, I mentioned the "Smart Paths" feature, and what that feature essentially is is an app with which you can pair your Davinci vaporizer. This app allows you to choose between two settings or modes, which are the Precise Mode and the Smart Paths mode.
The Precise Mode allows you to alter the temperature of your vaporizer in one degree increments, therefore giving you a more precise control over your vaping sessions.
The Smart Paths is a mode where you can choose between a few different "paths" which are practically designed to get hotter or colder automatically as your session goes on.
You can alter the temperatures on your Smart Paths, which allows you to vape at increasingly high temperatures throughout your sessions so you can get the most out of your product.
In addition to this, the Davinci IQ's battery life is really good considering the great power one gets from the vaporizer. The interchangeable battery lasts on average about 70 minutes, but can last a lot longer depending on how much you use it throughout the day. It's also worth mentioning that the interchangeable battery feature is really great because not many vaporizers have that feature anymore.
The Ghost MV1, on the other hand, is quite sophisticated in its heating and temperature setting technology. This vaporizer comes with 5 preset temperatures for dry herb or flower, and 1 preset temperature for your concentrates, as it does operate with both different types of product.
This vaporizer has a nice range of pre set temperatures which you can change with the GHOST app.
The Ghost MV1 has a similar feature to the Davinci IQ which is the fact that you can actually connect it to your GHOST app on your phone by Bluetooth, and you can alter two preset temperatures to fit your personal preferences. All this is done in a quick and easy way, and switching between your temperatures is very easy.
In addition to this, the Ghost MV1 vaporizer battery's life is really good, also considering how amazing the power you can get from it is.
This vaporizer lasts approximately 35 to 50 hits, which may seem like very little; but I found that the charging time (only 2 hours on average) is really quick, and that I can get back to vaping in a matter of 2 hours, so it isn't any inconvenience for me.
Portability, Discreteness, & Easy of Use
The Ghost MV1 vaporizer is really easy to use in my opinion, and I have not found any parts of using this vaporizer hard or too complicated. It really is super easy to change temperature settings, it is super simple to load, and the overall ease of use is really great, I think.
When it comes to discreteness I feel that the Ghost MV1 may be a little on the bigger side, but I don't find that to hinder my experience in any shape or form. Maybe I would have liked it to be a little more compact, but it is still very discrete and easy to use in public spaces where discreteness is valued.
Overall, I really like the way I can just load this vaporizer and go; and the fact that I don't have to worry about it being too "loud" or flashy. The one thing that might make it a little less discrete in a crowd of people, is the fact that it produces amazing clouds, which may be a little too big sometimes, but I suggest just turning the heat down and vaping on the low.
The Davinci IQ is also super easy to use in my opinion, and I really love the minimal amount of work I have to put into loading it and changing between different temperatures; I find that the use of the app really helps in that area, especially the "Smart Path" feature.
Also, the discreteness of this vaporizer is great! As I mentioned earlier, the Davinci IQ doesn't produce huge clouds, and I find that that is a pro when it comes to vaping discreetly in public. In addition to this, loading the device is really easy, despite having to practically open the whole thing.
I believe the Davinci IQ vaporizer to be an altogether easy to use, easy to operate, and very discreet vaporizer to buy, and I believe that if that's what you are looking for, you should look no further and just go with a Davinci IQ vaporizer. Of course, there are many other types of vaporizer which purpose is solely to be a discreet vaporizer, but this is always a great option.
Conclusion, Ghost mv1 or Davinci IQ?
As I mentioned above, we don't want to choose favorites for ourselves since we know that everyone is different, and everyone has their own preferences. But we do hope to show you a closer look at both vaporizers so you can get a better idea of what a vaporizer you may be considering is against other vaporizers.
We hope we helped you, and if you are interested on reading more of our "versus" reviews, please check out our page! We are always comparing the latest vaporizers, and we are always adding the newest vaporizers to our collections, so don't be shy!
---