Black Widow Vaporizer review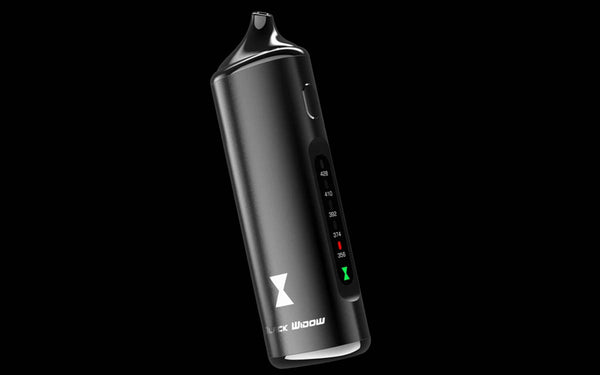 The Black Widow Vaporizer, made by Kingstons Manufacturing, released this small budget device in 2017. For those not looking to invest too much money in a portable vaporizer, the Black Widow Vaporizer is a good choice. After shopping online for some time, we decided to test out The purse/wallet-friendly Black Widow.
Overview
Currently on the market, The Black Widow dry herb vaporizer is a small, portable yet durable budget vaporizer capable of burning freshly ground dry herbs.
Its low price allows it to be easily accessible to most buyers. And its low-weight frame holds a row of buttons capable of changing various temperature settings. 
Even just opening up the box, any person would feel excited. By marvelling at its case and sleek grey design, and analyzing its stainless steel mouthpiece, it has the appearance of a well-made device. Also, it does come in other colours. You can choose between the silver and the black frame design.
Although it is not perfect, it is a great product for its budget, and for everything that it offers which is surprisingly a lot in one little package.
Checkout: - Best Dry Herb Vaporizers 2022
The Kit
The Black Widow Vaporizer's low-price sets it aside from other dry-herb vaporizers on the market, especially in terms of higher-quality ones. While other vaporizers may be priced quite high, the Black Widow vaporizer is available for a very affordable price.
After using it for some time, it's important to take a few moments to look over the other items that came in the box.
In the kit, 2 screens, as well as extra mouthpieces, are included so users do not have to replace them as quickly. This is helpful for repeated changing of the mouthpieces silicone cover.
With those screens included, it also includes a concentrate insert and packing tool. These screens allow users to use herbs wax concentrates or waxy oils with the pen.
And the loading tool along with tweezers helps users load the device easy. Also, you will find a cleaning brush which is really useful.
The USB charger is compatible with Androids, making it easy if you ever lose the cord. It is quick and easy to charge in full within forty-five minutes.
Finally, the kit comes with an insert which is great because you can use your vape with other essential oils, adding significantly to the device versatility.
Size
Due to its small size, the Black Widow vaporizer can be used in any situation. This is very useful for users who are on the go and rely on a vaporizer for their medication.
Its size makes it possible for users to carry it in their pockets in public, and not worry too much about a bulge or about it falling out. Wide enough to fit into most people's pockets or bags, the vaporizer itself is similar to phone in size.
While it will stick out as a vaporizer pen, it's a very easy thing to transport. Although it could be awkward having it in the same pocket as your phone, overall both could possibly fit together comfortably.
Its size and weight can also be a deterrent, making it easy to slip out of your hand if you are not careful. For reference, the device itself is probably about a third the size of an iPhone.
Body, Design, and Weight
With a rubber seal on its base, it makes sure that no air or any other contaminant gets into the body itself, trapping the mouthpiece and keeping it clean. This ensures that the mouthpiece won't degrade over time, which is often the case with other herbal vaporizers.
It comes with a magnetic stainless steel white mouthpiece, which is easily cleaned and detachable from its frame. Its ceramic heating chamber, which holds perhaps half a gram of dried herbs and rests just below the mouthpiece.
The Black Widow Vaporizer's frame, made of aluminum alloy, holds five heat settings with preset temperatures so that heat control is easy.
Simply by touching a button and holding it five times, users are able to turn on the device.
However, due to its design being made of steel and because the air path is not fully isolated, it can get relatively hot if left on for a long enough time.
This makes its prolonged use quite dangerous and can make it uncomfortable to hold the longer time goes on. But you don't have to be worried, this is really common on budget vaporizers due to its all-metal frame.
Battery
With its cut-off battery setting, users are allowed to casually put away their device without worrying that they are wasting the battery.
This is different from other devices on the market, which often waste battery life with sensitive push-buttons that turn on the vaporizer accidentally.
Unlike other devices, this Kingtons black vaporizer comes equipped with a five-minute cut-off timer, meaning if someone forgets to turn off their vaporizer, it automatically turns off.
This feature coupled with its 2200mAh battery charged via Micro-USB. In reality, It has a long battery and it is ease of access. The convenience of being able to charge the product in a similar way to your phone is very helpful.
However, not having a removable battery would eventually mean if this product breaks you would need to send it back.
Quality
After just 5 seconds, the Black Widow's LED lights light up green to indicate that it is ready to vape. No matter which setting you are on, this device produces high vapour quality.
After using it for a few minutes, the mouthpiece itself becomes very hot making its use hard. I recommend using the silicone cover that comes included with the package. This will make a longer vaping session more pleasant.
Thanks to its various temperature settings, the Black Widow Vaporizer can make large, flavorful clouds and high-quality vapour production. I believe that even the most seasoned smoker will be happy.
When you are using at its highest setting, these clouds can often be harsh on novice users. So the Black Widow vaporizer is a good choice for those who just want to get into the practice.
The lowest temperature produces the smallest clouds. According to me, those who are not used to vaping will find more enjoyable.
For seasoned smokers, however, you will find happiness with the mediate to highest settings (392 Fahrenheit to 420f) and find the lowest settings simply boring (356f). 
Thanks to its ceramic heating oven, it will give you a smooth prominent taste and flavour, leaving a long-lasting taste that does not sit harshly in most vapers throats, as do some other devices.
To Sum up
Although the Black Widow Vaporizer isn't perfect, it's one device that offers a bang for your buck. The Black Widow's small-size can be taken anywhere, and use it on the go. However, this is definitely a product meant for stationary use.
The quickness and speed of its ceramic ovens make it a powerful budget vape pen.
Even with many other vaporizers offering more advanced features for their products, the presence of a cut-off timer in this product was very much welcomed. And as many vapers often forget to turn off their devices, this is a good feature.
Also, this feature saves battery life, as well as prevents the device from getting too hot while in your pocket. Simply by placing the silicone cover onto it, and grinding up herb, it is ready for its first use.
Essential oil vapers will be glad to see that it includes an extract for concentrates. This opens up its expanded use in case you ever did want to get into essential oils.
Overall, the Black Widow Vaporizer comes with:
two mouthpieces,
screens,
a cleaning brush,
tweezers,
a loading tool,
a USB charger,
an insert for other essential oils.
---
HERBALIZE LIMITED TIME OFFER!
USE 10 % DISCOUNT CODE @ CHECKOUT: TREEPLANT
---
The pros of the Black Widow Vaporizer far outweigh its cons.
This is an excellent choice for the vaping enthusiast, whether you're brand new to vaping or a more experienced vaper. When the day comes that the device breaks, it will be a sad moment, but many won't hesitate to buy another.
For those in the market for cheap vaporizers, then the Black Widow Vaporizer is serious competition!
---