The 10 Best Portable Vaporizers 2022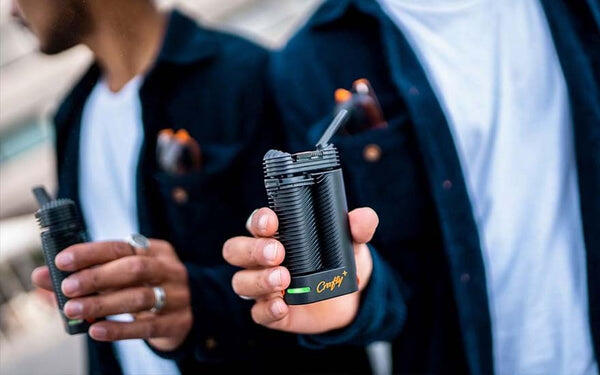 2021 was a controversial year. There are the people who think it was the worst year on record, and there are those who disagree and insist that it was the worst of all possible years. However, we made it through, and what better way to celebrate this (and brace for whatever the future may bring) than with a brand-new vaporizer.
Checkout: - The 12 Best Dry Herb Vaporizers 2022
We have been hard at work ranking the best portable vaporizers that you can bring into 2022. This exhaustive list is more than a mere slide show, we made sure to explain to you WHY we think these are among the best vaporizers out there. So without any further adieu, here is the ultimate vaporizer guide of 2022.
Below you´ll find our list of the top 10 portable vaporizers this year:
See ALL Our Portable Vaporizers
#1 - DaVinci IQ2
The DaVinci IQ2 Was among the first wave of portable vaporizers that established portable vapes and brought them from a niche gimmick to a well known and popular consumer electronic. The DaVinci IQ 2 is a worthy heir. It takes everything that the original IQ has and dials it up a notch. It delivers more flavor, better features, and a more intuitive control scheme. Of course, it's important to remember the style element. The IQ 2 is a strikingly attractive vaporizer, with a futuristic, minimalist design with a stunning finish and innovative features like DaVinci's iconic dot matrix LED display.
Incredible Vapor Flavor
The DaVinci IQ made its name on the back of its delicious vapor quality. No vaporizer can quite nail the same level of delicious fragrance. While you won't be getting any huge clouds, IQ 2 vapor cools as it travels through the flavor chamber and mouthpiece, delivering incredibly smooth hits. As an added feature, you can add dried herbs to the flavor chamber, infusing your hits with an additional level of complexity.
Adjustable Oven Size
A pitfall encountered with many portable vapes is that it can be hard to scale your vape experience to your needs in the moment. There are some workarounds, like using special pads to take up excess space. However, the DaVinci IQ 2 features a fully adjustable oven size. It has a small zirconia bead built into the chamber lid that can be lifted or lowered. This means that you can enjoy a smaller session with all the vapor quality of a full pack!
Dosing Control Feature
The IQ2 also allows you to enjoy total control over your vape experience with a unique dosing control system. This feature allows you to pack the IQ 2, enter the amount of THC and CBD present in your herb, and the IQ will tell you how much of each you consume with each hit!
Checkout: - DaVinci IQ2 Review
Get 5% OFF Now with code:
LOVE5
#2 - Mighty+ Vaporizer
Mighty Plus just hit the market, you can expect to see the Mighty+ on every best of list every year! The Mighty Plus may just be the pinnacle of dry herb vaporizing technology. Hailing from Storz & Bickel the Mighty plus is a chunky portable vape that offers all of the power of a S&B vape in an easy to carry, battery powered package and USB-C charging. It offers an incredible level of vapor quality, possibly the finest on the market. Every true vape fan has a Mighty+ at the very top of their must have list.
Outstanding Vapor Quality
The Mighty plus is famed, far and wide, for the sheer quality of its vapor. Thanks to its hybrid heating system it can produce some incredibly reliable and potent vapor. It has outstanding cloud production, you'll be impressed with their sheer density. Don't worry about each hit being harsh, it features a clever cooling unit that delivers smooth results.
Checkout: - The 10 Best Weed Vaporizers 2021
Hybrid Heating
The New Mighty plus features a powerful heating system that brings the best of conduction and convection vaporization together. This hybrid heating system allows users to get the very most out of their dry herbs. It has the rapid heat up time of conduction, which directly heats the surface area of the herb. It also uses convection heating to heat the air surrounding the herb, creating a thick and potent vapor. Together in a hybrid system, these heating techniques lead to huge, lung busting clouds that are above and beyond practically anything else in the vape market.
Powerful Battery
The Mighty plus is a chunky vaporizer, especially by portable standards. However, there's a very good reason for this. The majority of its bulk is given over to its powerful batteries. These allow its potent heating system to deliver its impressive results, they also allow for the mighty to have a long and reliable battery life. This makes the Mighty plus a great vape to carry on long journeys or into the great outdoors.
Checkout: - Mighy+ Vaporizer Review
Get 5% OFF Now with code:
LOVE5
#3 - DaVinci Miqro
The Miqro is another fantastic vape from DaVinci. It is, essentially, an even more portable version of the IQ. It combines an adorable and stylish form, with shockingly good function. All of this in a tiny vaporizer that is perfect for everyday carry. It features all of the fantastic flavor of the IQ, and it also has a similar replaceable battery system. It is the perfect portable vaporizer for solo use.
Ultra-Portable Size
The DaVinci IQ is a compact vaporizer, but the Miqro is even smaller. The Miqro is ultra portable, measuring in at less than two thirds the size of the original IQ. In fact, it is one of the smallest portable vaporizers on the market. This vaporizer is so small and compact that you'd be forgiven for forgetting that it's in your pocket.
Fast Heat Up Time
A must for a portable vaporizer is a rapid heat up time, and this goes doubly for vapes that are designed to be even more portable than average. The Davinci Miqro has an ultra-fast heat up time, hitting vaping temperatures in less than 30 seconds! This means that this vape will be ready to go whenever you want!
Great Vapor Quality
Don't worry, the famous vapor quality of the DaVinci IQ hasn't been sacrificed in the name of size in the Miqro. Thanks to its ceramic over and zirconia parts, it can deliver smooth, untainted, and flavorful hits. The DaVinci name is synonymous with tasty hits, and the Miqro is no exception.
Checkout: - DaVinci Miqro Review
Get 5% OFF Now with code:
LOVE5
#4 - Pax 3
For years, no best vaporizers list has been complete without a Pax vape, and more recently, few have been complete without the Pax 3. This vaporizer is the culmination of Pax's hard won vape knowledge, and it is a true legend of the vape scene. Perfectly portable, potently powerful, and pleasantly practical, the Pax 3 is a wonderful vaporizer that has served thousands of vape fans well.
Dual Use Vaporizer
TThe Pax 3 is a true dual use vaporizer. This means that it is compatible with both dry herb and concentrates. This means that you can enjoy a huge range of different vape experiences with this device, perfect for those who like to mix it up every now and again. The Pax 3 is compatible with special concentrate inserts that slot into its oven. These concentrates can absorb your oil or wax concentrate of choice, and when the Pax 3 is set to the right temperatures, vaporize perfectly. Dual use vapes are known to be occasionally hit and miss, but the Pax 3 won't let you down.
Great Vapor Quality
The Pax 3 puts out some seriously intense vapor, and thanks to its ultra-fast heat up time, you won't have to wait around for it to kick in. It comes with four preset temperatures but these can be adjusted further with the compatible smartphone app. The oven is located as far from the mouthpiece as possible, so you can expect surprisingly solid cooling from this vaporizer.
Herb-Preserving Features
Some convection vapes are known to bake all the goodness out of your herb even when you're not using. The Pax 3 has a few features in place to ensure that none of your herb goes to waste. It features innovative lip sensing technology and an accelerometer to determine whether the vape is in use or not. If you're about to hit it, the heating system leaps into action and kicks in, ensuring that you get a solid, consistent hit. Then, when you set it down, it will go into idle mode again, ensuring that your herb doesn't go to waste.
Checkout: - Pax 3 Review
Get 5% OFF Now with code:
LOVE5
#5 - Arizer Solo 2
The Arizer Solo 2 epitomises a high quality vaporizer. It has intuitive and simple controls, an easy to read display, fantastic built quality, and most importantly: it delivers some shockingly powerful hits. The Solo 1 was a go to vape in the early days of the vape scene, and the Solo 2 remains a solid choice for intermediate vape fans across the globe.
Super Reliable Battery Life
The Solo 2 features a prominent and easy to read display and two button control scheme that gives you all the control you could possibly need over your vape experience. You can optimise your temperature setting on the fly, pushing the temperature up high for dense clouds, or lowering it for more flavorful and mellow hits.
Full Digital Session Control
A must for a portable vaporizer is a rapid heat up time, and this goes doubly for vapes that are designed to be even more portable than average. The Davinci Miqro has an ultra-fast heat up time, hitting vaping temperatures in less than 30 seconds! This means that this vape will be ready to go whenever you want!
Open Airflow
The Solo 2 is designed with a slimmer, smaller shape when compared to its predecessors. This doesn't mean that its hits are restricted at all though. Instead you can expect a great draw thanks to the recessed heat jets that allow for increased airflow. This, combined with the solo's powerful heater and glass airpath means that your vapor will be smooth, dense and tasty.
Checkout: - Arizer Solo 2 Review
Get 5% OFF Now with code:
LOVE5
#6 - Firefly 2+
The Firefly 2+ is part of a growing selection of portable vapes that harness the power of your smartphone to increase its functionality. Not only do you get all the goodness of the original Firefly 2, you get a host of new features that make it better than ever. This is not only a flexible vape for aficionados, it's also user friendly and affordable, perfect for beginners!
Tasty Hits
The Firefly 2+, just like its slightly less hitech predecessor, is capable of producing some seriously tasty vapor. Its gentle convection heating system and isolated airpath mean that you get to enjoy the true flavor of your herb. With a little familiarity with its various heat settings, you can expect some seriously good and tasty hits from the Firefly 2+.
Smartphone App
The onboard temperature controls on the Firefly 2+ offer a huge range of flexibility, allowing users to access and enjoy a massive range of different vape experiences. However, when you hook this vape up to its app via bluetooth, a whole new world of functionality opens up. With the app you can access a range of new features, fast tracks, and even help videos.
Compact and Classy
The Firefly 2+ is the perfect palm sized vaporizer, capable of slipping easily into any pocket or jacket. Best of all, it comes in a huge range of interesting and resilient finishes. So if you want your vape to be discreet and easy to conceal, this is perfect. However, if you want something that's a bit more you, then the variety of the firefly 2 is a must, too.
Checkout: - FireFly 2+ Review
Get 5% OFF Now with code:
LOVE5
#7 - The Crafty+ V2
The Crafty+ is the Mighty's little brother. It offers all of the vape power of the mighty but in a more manageable size. Some sacrifices have been made, for example it doesn't have the same battery life as teh Mighty and it had to remove the broad screen and control system that the Mighty is so well known for. However, the Crafty+ features bluetooth connectivity, and its bespoke app means that you can have as much control over your vape as you would with the Mighty.
Same Power, Smaller Size
The Crafty+ did have to make a few cuts for its trimmer waistline, however, no sacrifices have been made to where it counts. It still features all of the power that the Mighty has, including the iconic Storz & Bickel hybrid heating system. This means that you can enjoy some of the finest, most potent, and pure vapor the vape scene has to offer. The Crafty+ is a true luxury premium vape, capable of getting more out of your dry herb than you could ever have imagined.
Great Heat Up Time
While the hybrid heating system is known for its quality, in some other Storz & Bickel models it is known to be a bit underwhelming when it comes to heat up time. While patience is a virtue, portable vaporizers are expected to be a little bit faster. The Crafty+ clearly enjoyed some extra engineering, and can hit vaping temperature in around a minute when fully charged. While this is far from instant heating, it does allow users to enjoy potent and powerful clouds in next to no time, because once it hits vaping temperature, the clouds will be ready. No waiting around for it to build up a bit of steam, so to speak.
Smartphone App
The basic Crafty features simplified onboard controls when compared to the mighty. While these were more than capable of doing the job, some users still felt like they were missing something. The Crafty+ corrects this with its new bluetooth connectivity. The app allows users to access ultra precise temperature controls, a battery meter, and even a surprisingly handy vape locator (this makes the Crafty+ vibrate so you can figure out which couch cushion it has fallen under). This added range of functionality makes an already great vaporizer fantastic
Checkout: - Crafty+ Review
Get 5% OFF Now with code:
LOVE5
#8 - G Pen Elite
The G Pen series of vaporizers from Grenco Science have been in the vape industry since the very beginning. The original range of G Pen were many people's first introduction into the world of dry herb vaporizers, and they remain the go to brand for beginner vapes to this day. The G Pen Elite is a step up from the usual G Pen design, featuring a unique design that has been rethought from the ground up. This may be one of the finest beginner vapes on the market right now.
Extra Large Chamber
The G Pen Elite features one of the largest vape chambers on the portable vape market. This means that you can pack in enough of your favorite dry herb for several sessions, or even to share with a whole bunch of people. This oversized chamber can nearly hold an entire gram! It is made out of ceramic, a material known for its non-reactive nature and consistent heating. This means you can enjoy dense, smooth, and untainted hits from a seriously impressive amount of herb.
Rapid Heat Up Time
You'd be forgiven for thinking that this large chamber means a long heat up time. However the G Pen Elite can reach vaping temperatures in less than thirty seconds! This makes it the perfect vape for occasional quick hits or if you don't want to be forced to wait around for too long at a party.
Great Draws
Solidifying the Elite as a fantastic beginner vape is the fact that it features a manageable and easy draw resistance. This mild resistance means that anyone, no matter how unfamiliar they are with vaporizers, cna get a decent hit from it easily. This, combined with its super rapid vapor production, means that every hit can yield some truly satisfying clouds. This is a great feature for beginner vapers, who may be used to seeing more visible results from combustion based methods or even just from e-cigs.
Checkout: - G Pen Elite Review
Get 5% OFF Now with code:
LOVE5
#9 - Fury Edge
The Fury Edge is a fantastic mid-range vape that is an ideal beginner vape, or the next step in an intermediate's vape journey. It has a discreet and solid design that features precise temperature control, an easy to read LED display, and glass airpath. It features fantastic convection-powered heating and a huge range of accessories you can use to improve and augment your vape experience. The Fury Edge lets you enjoy a fantastic vape experience that rivals some premium vaporizers, all of this without breaking the bank.
Glass Mouthpiece and Airpath
The Fury Edge comes out of the box with a choice of two different mouthpieces in the kit. A slightly extended glass mouthpiece, and a more compact plastic one. Regardless of either type, both feature a glass airpath. This non-reactive material is especially good in vaporizers as it doesn't release any odors or tastes when heat is subjected to it. This means that you can enjoy the pure, unadulterated aroma of your favorite herbal blend with zero compromises.
Stainless Steel Oven
The Fury Edge features a decently sized stainless steel chamber. This chamber features several air inlet holes that help ensure an easy draw and decent airflow. The convection heating system means that the herbs don't come into direct contact with the heating system, and it's stainless steel composition ensures even heating. Finally, the isolated airpath ensures that you only enjoy the smoothest and cleanest vapor.
Fantastic LED Display
One of the best features of the Fury Edge is its clear and easy to read screen. Many of the more compact vaporizers on the market eschew displays entirely to save space. This does impact their ease of use and responsiveness somewhat. However, the clear and broad screen on the Edge means that even a total vape novice will be able to get to grips with their vaporizer in no time. It allows them to check up on their current temperature setting, the length of their session, and their remaining battery life.
Checkout: - Healthy Rips Review
Get 5% OFF Now with code:
LOVE5
#10 - Boundless CFX
The Boundless CFX is one of the most straightforward, easy to use, and powerful vaporizers in its price range. It lets nearly anyone enjoy a consistent and potent vape experience quickly, thanks to its incredible heat up time. It has two stand out features, its massive and easy to read screen, and it's above average chambersize. This is the ultimate vape for a big night in on the couch.
Hybrid Heating
Some of the most common things said about the Boundless CFX is how potent its vapor production is and how quick its heat up time is. This is all down to its hybrid heating system. Once, the purview of premium vapes, hybrid heating is now available at nearly any budget. This type of heating uses the best of conduction, which directly heats the herb's surface area, and convection, which heats the air surrounding the herb. This means that you can enjoy the density and power of a convection vaporizer, with the rapid heat up time of a conduction unit.
Huge, Clear Screen
The CFX has a truly impressive 1.7" screen that allows users to keep track of their current chamber temperature, their temperature settings, and remaining battery life. It goes a step beyond the typical digital numbers that are seen on many vapes. Instead it features a stylish and intuitive speedometer format that allows you to take in everything you need to know at a glance.
Dual Use Vaporizer
The Boundless CFX is compatible with nearly any herbal blend you can think of. Not only this, but thanks to the included concentrate pods, users can enjoy oil and wax style concentrates too. The powerful heating system allows you to push the CFX up to the high temperatures that you need to enjoy these substances. This is a great feature for those who like to mix things up every once in a while.
Checkout: - Boundless CFX Review
Get 5% OFF Now with code:
LOVE5
---